This is heavenly sub-tropical, coastal town situated on the Great Beach Drive that is an aquatic lovers playground. Rainbow Beach, is a major entry point to the 41,000 hectare Cooloola National Park and the southern gateway to world heritage listed Fraser Island.
A short drive north from Rainbow is Inskip Peninsula where there's a barge to take you and your 4WD across to Fraser Island. According to the Kaby Dreaming, Yiningie, the spirit of the gods, often took the form of a rainbow. Yiningie was killed in a fight when he crashed into the cliffs and his spirit coloured the sands.
---
Places we suggest you visit are:
Carlo Sandblow – Rainbow Beach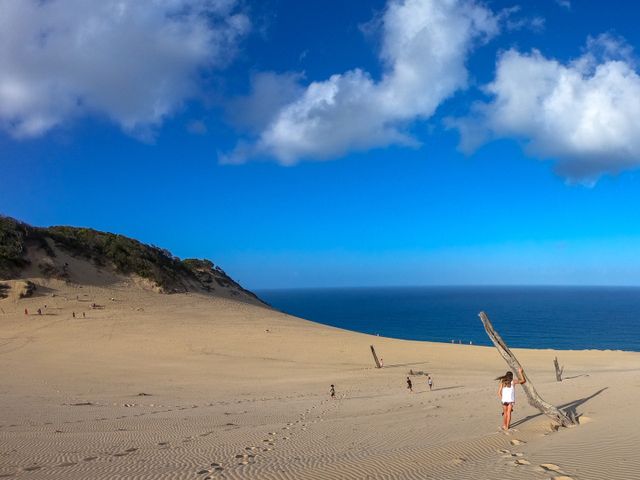 Information
Walking track to sand blow via Cooloola Drive. Great view out over the ocean and to Double Island Point lighthouse. Also a great location to watch sunsets.
---
Poona Lake
4.2km return
From the Bymien day-use areaenjoy this magical walk up a rainforested sand dune and then down to the secluded paperbark-fringed lake. Turn off the Dundathu circuit, and meander through tall rainforest with towering kauri and hoop pines, strangler figs engulfing their host trees, and thin, tall piccabeen palms reaching for sunlight. Large, broad-leaved lilly pillies flower in spring then blanket the rainforest floor with white berries, attracting fruit-eating birds.
Listen for catbirds and wompoo pigeons and glimpse noisy pittas. Walk down through carrol scrub to the shores of the scenic perched lake and marvel at the variety of plants that grow in the Cooloola sandmass.
---
Double Island Point Look Lighthouse
You will need a 4WD to get to this one!!
Gaze at mesmerising ocean views from the lighthouse high on the headland, and imagine life for the early lightkeepers and their families. 2.2km Return Walk Allow 1 hour Grade 3 Walking Tracks Stop along the Cooloola beach drive to tackle this short but steep walk to the historic Double Island Point lighthouse. Be rewarded with amazing 360-degree views reaching from Fraser Island and Rainbow Beach around to Noosa on a clear day. Double Island Point lighthouse is spectacular, standing tall against a backdrop of low wind-stunted pandanus and coastal banksia. Explore around the lighthouse and surrounding buildings, built back in 1884, and imagine the daily lives of early lighthouse keepers and their families. Look for dolphins, marine turtles and manta rays in the waters off the headland, and migrating humpback whales during the cooler months.
---
Seary's Creek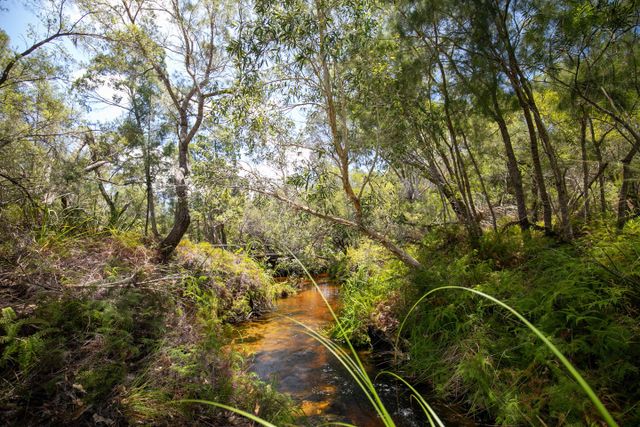 On your way into Rainbow Beach, stop for a restful picnic and even a swim in the cool creek at this easy-to-get-to and popular day-use area. Lounge over lunch in the shade of cypress pines and she-oaks then take a short stroll along Seary's Creek boardwalk to a cool, freshwater creek for a refreshing dip. Learn about Patrick Seary, a timber-getter from the 1860s who explored this region which now bears his name.
In the warmer months enjoy the sight of colour wildflowers in bloom—pink (boronias), white (blueberry ashes) and yellow (banksias and wattles)—and watch for birds such as friarbirds, kookaburras and honeyeaters.
---